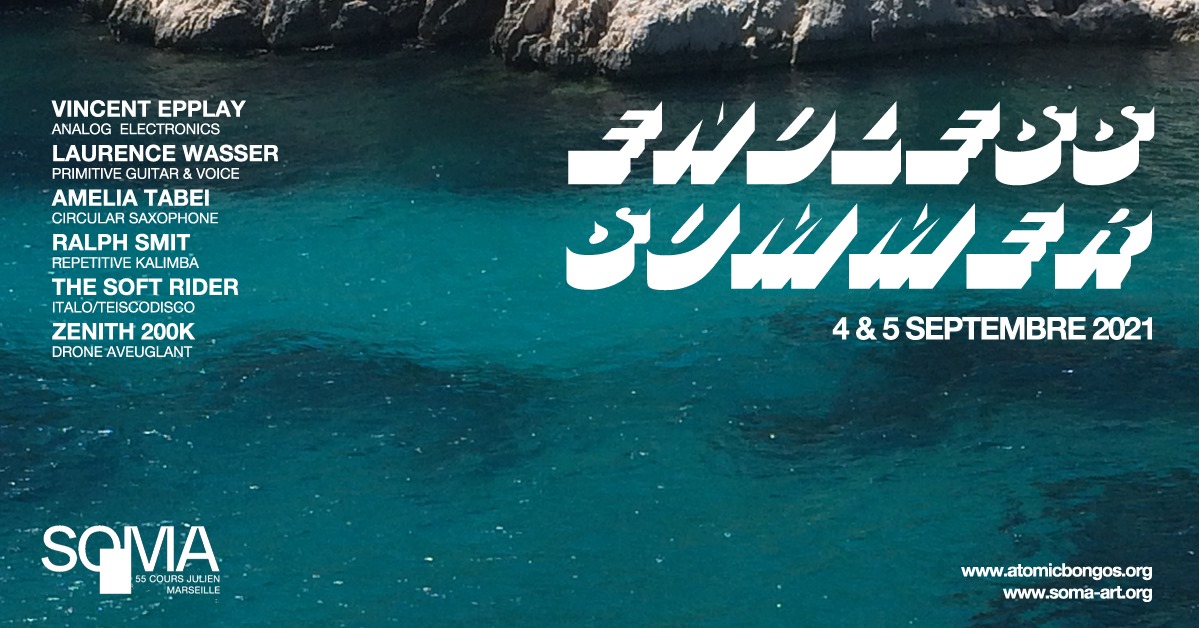 ENDLESS SUMMER – experimental music festival  organized by SOMA and Atomic Bongos – 4 and 5 September 2021
RALPH SMIT
Ralph Louis Smit is a trumpeter, multi-instrumentalist and producer who grew up in Swaziland. He has played with an eclectic selection of musicians from Mozambique to Cape Town, Gauteng, Swaziland and Kathmandu. He is the founder of the label/collective Rondavel Records.
https://mrfreddy.bandcamp.com/
LAURENCE WASSER
Laurence is a self-taught musician active since the early 2000s.
Often changing instruments as well as cities, he plays a nomadic rock at the crossroads of raw music, exotica and Dada experimentation, performing mostly solo, aided by castanets, loopers, and other found instruments.
https://soundcloud.com/laurencew…/live-at-noiseberg-part-i
https://www.youtube.com/watch?v=km_aqW4zrsQ
AMELIA TABEI
Born in 2018 in Brussels, Amelia Tabei is a saxophone solo of contextual and experimental music based in Toulouse. Between avant-garde, ambient, modern classical and world, Amelia Tabeï develops a hypnotic and atmospheric performative work playing polyphony in continuous breathing on the alto saxophone.
Born in Avignon, graduated DNSEP in 2015 from the Ecole Supérieure d'Art d'Aix-en-Provence, Yohan Dumas is a visual artist, musician, composer and artisan working in Toulouse.
https://ameliatabei.bandcamp.com/album/donna-sol-3
VINCENT EPPLAY
Vincent Epplay is a sound and image artist. For the past twenty years, he has fluctuated in an interzone around the notion of the remanence of the spectres that haunt the collective unconscious. He plays regularly in France and Europe as a soloist or in a trio with the group Bader Motor and the trio Jac Berrocal – David Fenech – Vincent Epplay.
His music has been released by various labels: Akuphone, Blackest ever black, Klang Galerie, AKA, Planam Alga Marghen. He continues to archive records without music, 8-minute method and teaching films, and recordings or documents without proven authorship.
http://www.viplayland.net/
http://www.myowndocumenta.art/vincent-epplay/
https://vimeo.com/user15388046
https://www.youtube.com/channel/UCM3a7l1WD5XMgu-PehrEXSw
ZENITH 2000K
In a continuum of the space-light-sound trio, ZENITH 2000K offers a blinding monochromatic sonic experience. Zenith evokes a solar metaphor for this installation composed of a hypnotizing and dazzling ensemble of light particles. 2000K for 2000°Kelvin, the temperature of the warm color of these diffused lights, identical to those of a sunset.
Imagined as a corridor between two states of consciousness, it's a massive light portal propelling sub-bass frequencies. A body augmented by sensors for a vibratory choreography. A meditative dive into the photon world…
https://thomaslaigle.fr/
https://vimeo.com/508936877