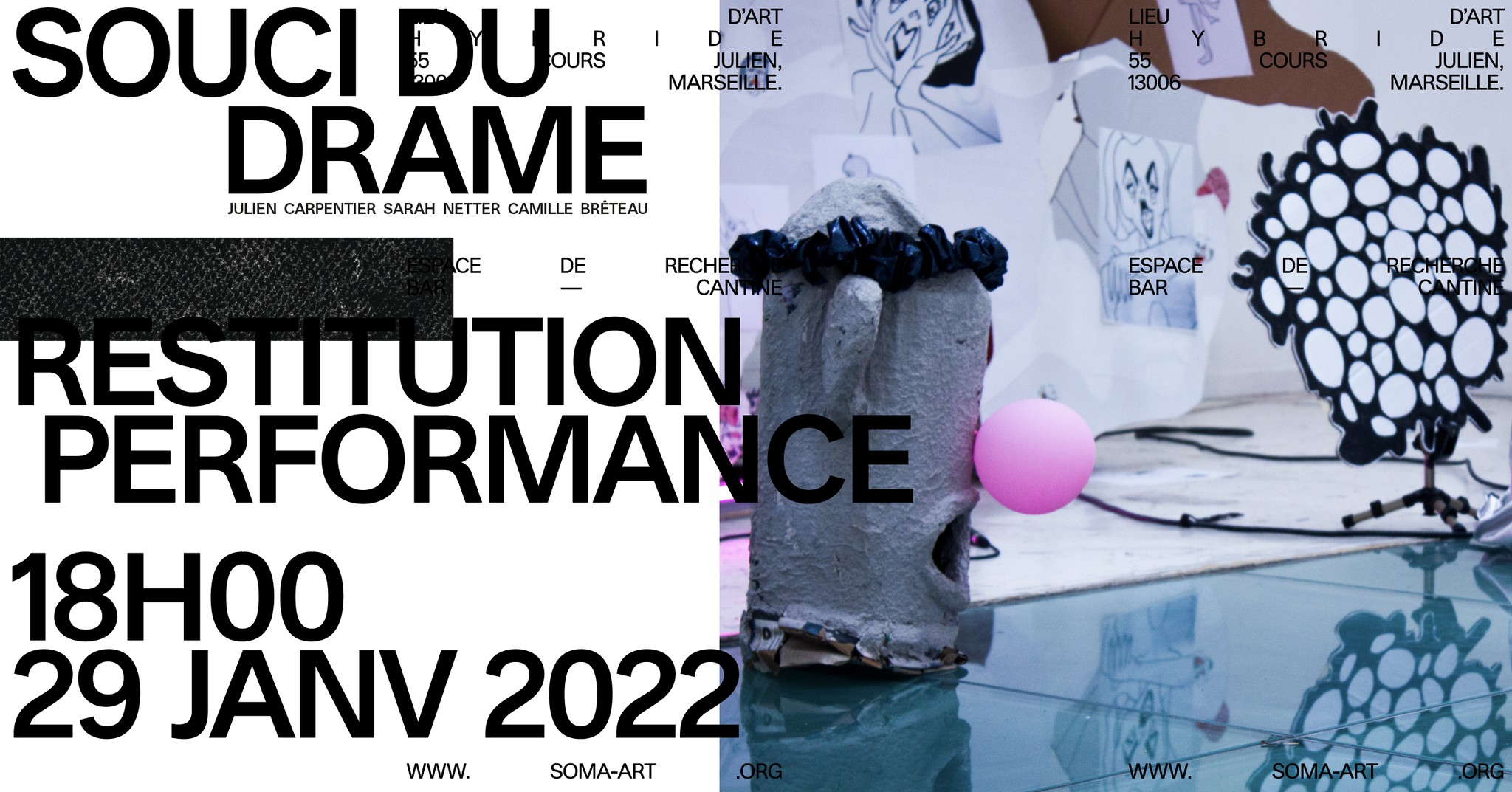 Performers, sculptors and storytellers, we met each other at the Villa Arson during our studies. Since then, we have continued to exchange on our respective practices and have been able to collaborate on the occasion of collective exhibitions. All three of us have the ambition to formulate a denser project together, which is the fruit of these artistic affinities.
This project is Souci du drame.
From the start, we each expressed a desire for the stage, or at least desire linked to the idea of the stage and the voices. This is why we started this performance project, mot-valise, in which we bring along a whole bunch of other terms: costumes-sets, atmospheres-costumes, sets-speakers, choreography-choruses.
We have already done a research residency as part of Soma Xpé in July 2020. We were afterwards invited by Data Rhei (Cyriaque Blanchet and Jules Brière) as part of their research cycle Iéna Situation (https://datarhei.fr/post/667844728747950080/janus-multifrons) to produce together the exhibition Janus Multifrons, at the Placement Produit gallery in Aubervilliers. After our production residency at SOMA Marseille, we will continue the creation of our first performance during a three-week residency at the Villa Arson.
CAMILLE BRÊTEAU (elle)
Artiste plasticienne performeuse et musicienne je vis entre Paris et Marseille. Je suis investie dans le collectif Iveco nu.e à Noisy-le-sec ou nous organisons des événements : expositions, concerts ou encore séances de projections. J'ai composée la bande-son de Madison Bycroft pour sa performance au
Palais de Tokyo
Anti-Héro, et j'ai récemment étais performeuse et assistante de Violaine Lochu à la
Villa Arson
à Nice à l'occasion de son duo show avec le chorégraphe Joao Fiadeiro. Une de mes pièces collaborative est visible au
CTM Festival
à Berlin où j'ai été invitée par le label
SFX Space
. Je compte également plusieurs collaborations avec des artistes/musicien.ne de la scène de Bristol où je suis régulièrement invitée à participer à des émissions radios ou des compilations.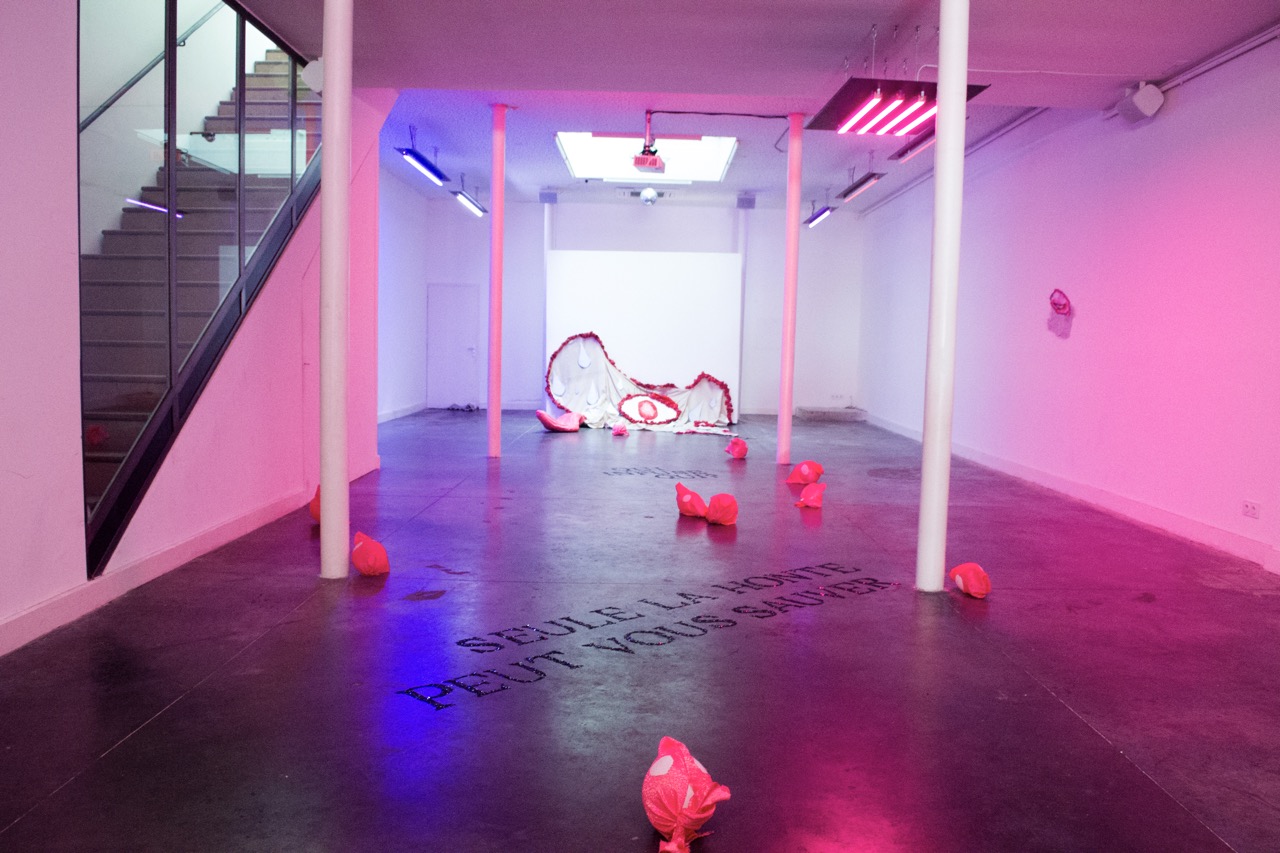 SARAH NETTER (they/them)
Artist and researcher living between Marseille and Clermont-Ferrand, member of the Coopérative de Recherche des Beaux-Arts de Clermont-Ferrand since 2020, I am also an amateur translator.
Co-founder of the collaborative project Patati Patata with Hayoung Kim (iel), and of the collective studio CROCS.
I recently exhibited at the Art-Cade Galerie Bains Douches for the Relève III, in the group show The Way of The Drunkard, at the SISSI Club and in the group show Construire sa prétendue curated by Marie de Gaulejac at the Villa Arson art centre.
I also presented my textual work at the Centre international de poésie Marseille on invitation of SISSI Club.
JULIEN CARPENTIER (he/him)
Born in 1995 in Douai (59).
Graduated from the Villa Arson (Nice, FR) in 2018.
Lives and works in Marseille (FR).
Co-founder of Lonely Life Lovers Club, artist collective and music label since 2016.
Member of FUITE, artist-run-space, Marseille.
Performer and musician, I was able to show my work at the Friche la Belle de Mai, La compagnie, Villa Arson, Belsunce Projects, Art-Cade and SISSI Club.