Que s'est-il passé au SOMA?
UN-STRINGS #7 : 1 & 2 AVRIL : AUTOUR DE LA MONTE YOUNG ET DU SON CONTINU
VIDEODROME 2 / DATA / SOMA : Concerts, Rencontres, Conférence, Projections.
Participants : JACQUELINE CAUX (réalisatrice), CATHERINE GUESDE/CIGUË (philosophe-critique musicale/musicienne) & HERVE BOGHOSSIAN (musicien)
01/04 18H30 (entrée libre, jauge limitée):
CATHERINE GUESDE
"Musique éternelle : l'écoute du son continu"
Le drone ou son continu constitue un cas extrême de musique répétitive : rythme, mélodie, changement sont abolis au profit du maintien de l'identique – le tout se déroulant dans des durées potentiellement infinies. Ce mode de composition, rendu célèbre par les minimalistes, semble radical. On en retrouve pourtant des traces dans les premières formes de musiques humaines, et dans les musiques traditionnelles aux quatre coins du globe. Par son ancienneté et son rapport aux formats longs, le son continu entretient alors des affinités avec l'idée d'éternité. Ce sont ces affinités que nous nous attacherons à creuser lors de cette conférence qui mêlera histoire du drone et approches de l'écoute bien particulière à laquelle il nous invite.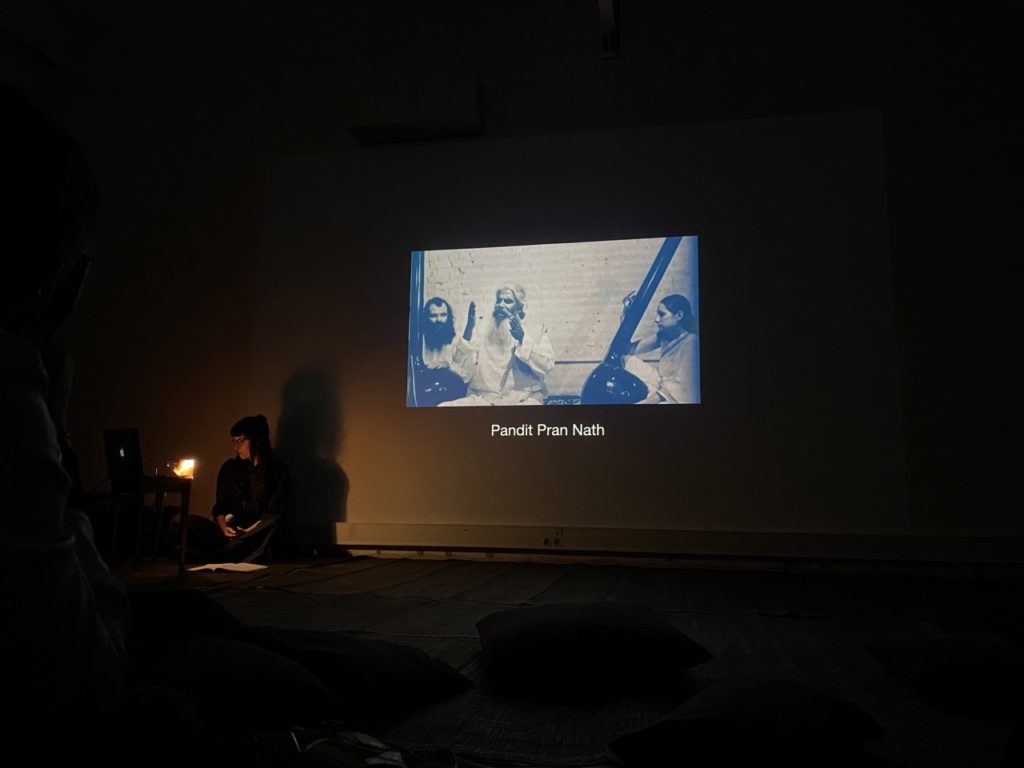 ______
What happened at SOMA?
UN-STRINGS #7 : 1 & 2 APRIL : AROUND MONTE YOUNG AND CONTINUOUS SOUND
VIDEODROME 2 / DATA / SOMA : Concerts, Meetings, Conference, Screenings.
Participants : JACQUELINE CAUX (director), CATHERINE GUESDE/CIGUË (philosopher-music critic/musician) & HERVE BOGHOSSIAN (musician)
01/04 18H30 (free admission, limited capacity):
CATHERINE GUESDE
"Continuous music: listening to continuous sound
The drone or continuous sound is an extreme case of repetitive music: rhythm, melody, change are abolished in favour of the maintenance of the identical – all taking place in potentially infinite durations. This mode of composition, made famous by the minimalists, seems radical. Yet traces of it can be found in the earliest forms of human music, and in traditional music from all corners of the globe. Through its antiquity and its relationship to long formats, continuous sound has affinities with the idea of eternity. It is these affinities that we will attempt to explore during this conference, which will combine the history of the drone with approaches to the very particular listening to which it invites us.
Catherine Guesde is a doctor of philosophy, musician and music critic. Her research focuses on contemporary forms of sonic radicalism, from noise to extreme metal. The question of continuous sound occupies her theoretical research and her practice of the electric guitar under the name of Cigvë. She co-authored 'The Most Beautiful Ugly Sound in the World': listening to noise with Pauline Nadrigny (Musical Falsa editions, 2018); her work on listening to extreme metal received the IASPM-BFE Young Researcher Award.
Some of Catherine's lectures: