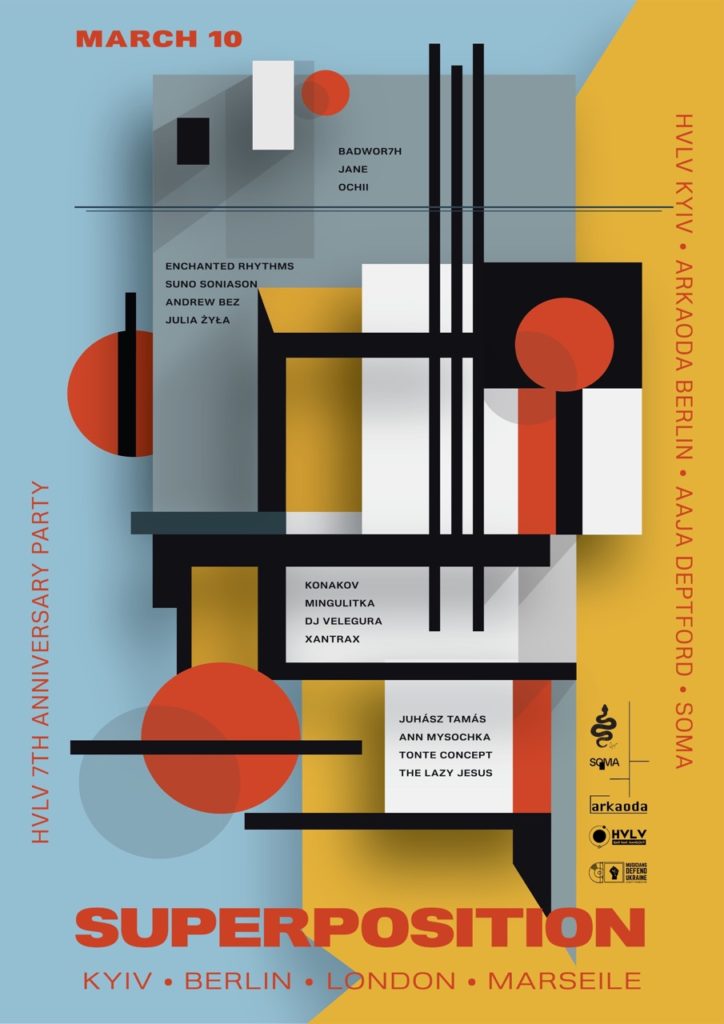 On March 10, SOMA will be the second of four venues to host SUPERPOSITION – a fundraising evening in honor of the seventh anniversary of Podil feat. Hangout. The evening's ambience will be created by Kiev residents and friends of Ukraine under the direction of Ann Mysochka, and part of the proceeds from SUPERPOSITION will be donated to the Musicians Defend Ukraine charity fund, which supports artists fighting on the front line for freedom and peace in Ukraine and across Europe.
The festive program for the 7th anniversary of HVLV Bar feat. Hangout presents :
Juhasz Tamas – a Marseille-based experimental electronic musician, resident of Budapest's Exileselectronics label and host of LYL Radio. His music is based on 70s German prog rock and new wave ambient electronica.
Ann Mysochka – Ukrainian DJ, resident of HVLV, and host of Radio LYL's « Made in UA » program. Her selection consists of a combination of tribal house with a pinch of tech house and breakbeat.
Tonte Concept – music producer and artist from Marseille, co-leader of Solar Soundsystem. In his performances, he creates hybrid live compositions of house, techno, storytelling and French chanson.
The Lazy Jesus – a Ukrainian DJ and sound producer who constantly explores different genres in search of the most unusual and soulful sound. This is embodied in his new project UA TRIBAL, which is the product of a close interaction between sound and visual art inspired by the music of Ukrainian ancestors.
10.03.2023, 21:00
Admission: free price