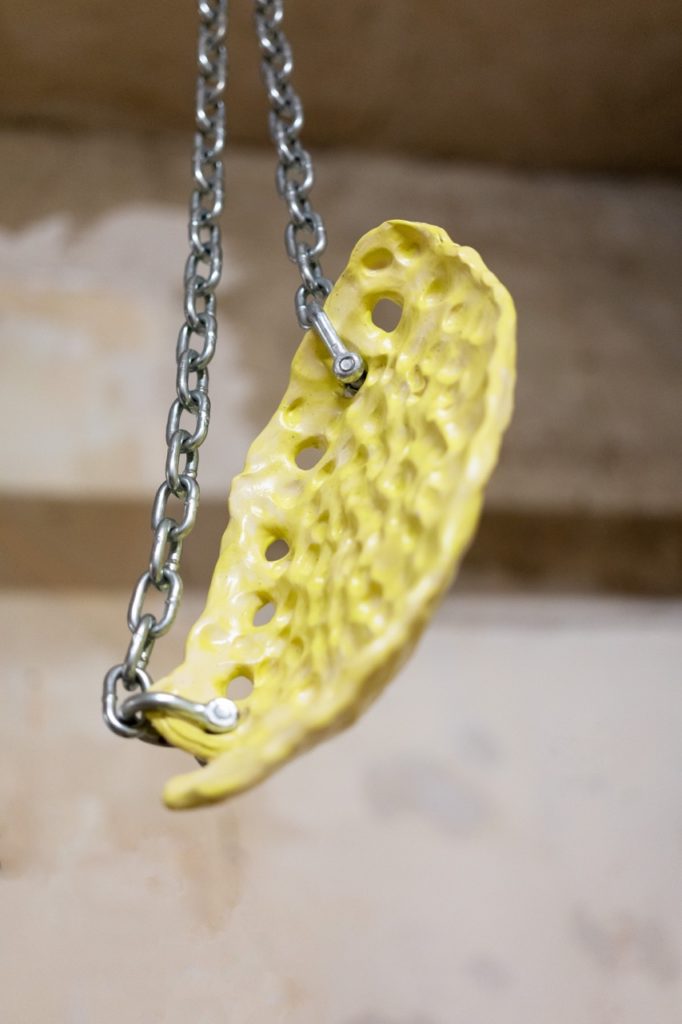 The series of ceramic objects Au plus loin du bord approaches sculpture from a perspective focused on vulnerability and intimacy. The organic, filigree formal language of the objects counters the idea that sculpture must be monumental to achieve its full effect.
Hanging from chains, crouching in corners and crawling across the floor, the ceramics occupy the exhibition space and invite visitors to play a game of search. In contrast to the distance that characterizes Western conceptions of art and nature, a closeness can be established with the sculptures.
In combination with the textile banners and text-based work Imagine being one of those fractures, the result is a space of hybrid encounters in which the supposedly clear boundaries between object and subject, active and passive, nature and man, art and viewer are blurred.
__________________________________________
Johanna Brummack studied art and teaching French from 2014 to 2021. As part of her art studies in Kassel, she began working in the virtual reality department with Bjørn Melhus and in the theory and practice department with Johanna Schaffer. In her interdisciplinary research, Johanna Brummack examines social structures by bringing together elements considered to be dissociated. Crossing art, science and mediation, she constructs performative spaces that invite exchange on relevant social issues. Starting from their own position as queer people, she is interested in the strategies of marginalized bodies and communities. She is particularly interested in queer forms of care and intimacy, as well as vulnerability and trauma. She interrogates these subjects with different media such as sound, installation and sculpture, and translates them to different planes. Her current focus is on vulnerability and sensuality as trans-species connections.