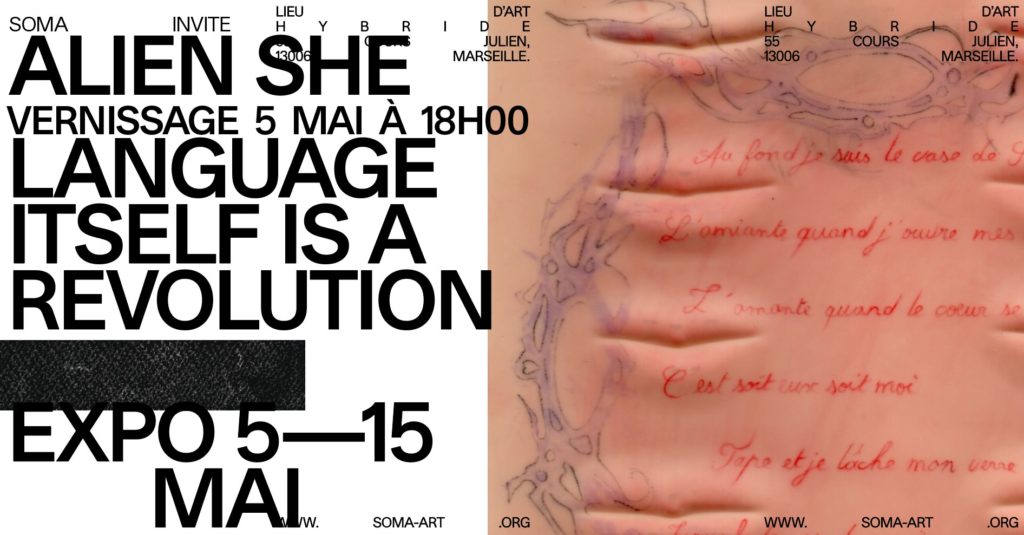 Alien She's initiative was born out of a simple observation: while the average number of women in art schools is nearly 60%, they represent only a tiny proportion of the artists who receive awards and are represented by major institutions. Art, like any professional field, is not exempt from gender discrimination. For the past two years, they have been working to offer creative and promotional spaces to female and gender minorities artists through exhibitions and collective projects. They are committed to making their work visible and disseminating it independently in order to offer opportunities without reproducing the mechanisms of exclusion of existing circuits.
For this residency at SOMA, Alien She has prepared a project linking poetry, art and research. The exhibition LANGUAGE ITSELF IS A REVOLUTION will be accompanied by a series of workshops, performances, readings, screenings and live performances: during the 10-day occupation of the space, from 5 to 15 May, we welcomed twenty artists who introduced us to their practice of struggle.
The association, law 1901 ALIEN SHE Art was created in 2019, founded and chaired by Cléo Farenc, with the participation of Léonore Camus-Govoroff.