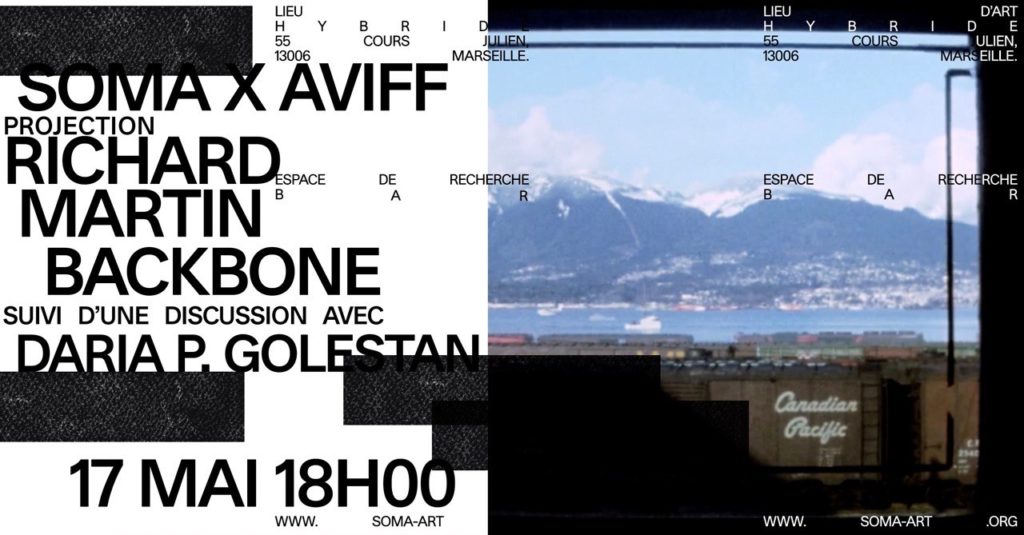 17/05: projection du film BACKBONE de Richard Martin, suivi d'une discussion avec Daria P. Golestan, qui nous initiera au travail du cinéaste.
Richard Martin, réalisateur avéré, qui ne lâche jamais sa caméra, oscillant entre le cinéma expérimental, l'art vidéo, le télé-show ou les souvenirs de vacances. Comme Janja Rakus, l'une des artistes présentée dans la sélection AVIFF projetée au SOMA, il participe à toutes les éditions d'AVIFF. Il nous offrira le premier screening de son documentaire « BackBone » dans lequel il retrace les prémices du cinéma expérimental canadien dans les années 70-80.
RICHARD MARTIN:
· Started as an experimental filmmaker in 1980 with award-winning film DIMINISHED praised by Gene Youngblood (author of Expanded Cinema) "A delicately structure non-verbal poem about time, loss and memory…" This film was followed by WINTER LAST JULY which premiered at the Toronto International Film Festival.
· Became a feature film editor with SAMUEL LOUNT for which he was nominated for a Canadian Screen Award in 1986
· Directed his first feature film MATINEE followed by NORTH OF PITTSBURGH which was nominated for 7 Canadian Screen Awards
· Through the 1990s, directed genre feature films WHITE TIGER and WOUNDED before entering television with HIGHLANDER shot in Paris in the late 90s.
· Returned to personal, experimental work in 2005 with MIXED SIGNALS which played over 50 film festivals including the Berlin International Film Festival and Oberhausen.
· Continued in the experimental arena including ABCAM which won 1st prize at AVIFF Cannes.
· Produced BACKBONE: VANCOUVER EXPERIMENTAL CINEMA 1967 – 1981 which is in the collections of many universities film programs around the world.
· Currently working on 3 new works based upon 35mm found footage material.